News & Events
Updated: 3 years ago - Created: November 19th, 2013
Watch this page for: changes to regular meeting schedules; notices of special meetings; notices of changes to by-laws or policies; Council and/or staff changes; or listings of current or special events.
OUR NATURAL PLAYGROUND - ALONG THE OTTAWA RIVER
Since 2016, Head, Clara & Maria has been able to provide upgrades to our municipal boat launches and Old Mackey Park with support from the Government of Canada through the Canada 150 Community Infrastructure Program. Upgrades include: upgraded washroom facilities, new docks, solar lighting, permanent garbage and recycling bear proof containers, permanent picnic tables, hand wash stations and pest control.
Improvements have been made at each boat launch in Deux Rivieres, Stonecliffe and Mackey, as well as our municipal park on Jennings Road in Mackey. Our goals were increased health and safety of users while increasing use of our outdoor facilities. We hope you enjoy the improvements to our boat launch and park facilities as you enjoy our natural playground.
"With support through the Canada 150 Community Infrastructure Program/Avec l'appui du Programme d'infrastructure communautaire de Canada 150."
HCMHomecoming2017

June 30, July 1, 2 and 3, 2017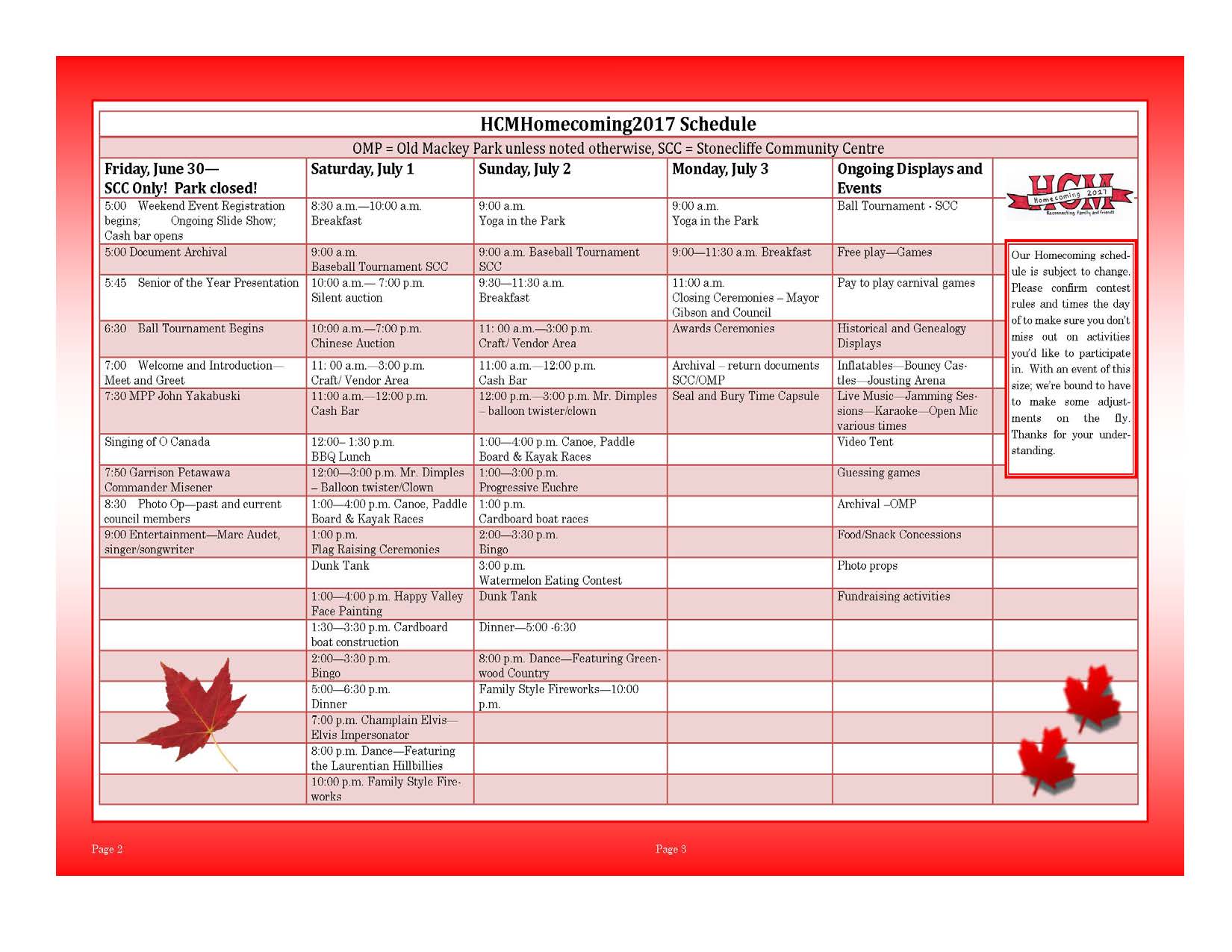 ​Email contact: hcmhomecoming2017@gmail.com for more info.
Events Confirmed to Date
---
Confirmed to Date
Inflatables | Live Music | Dancing | Champlain Elvis | Food & Beverage | Homemade Desserts | Watermelon Eating Contest | Dunk Tank | Document Archival | Base ball Tournament | Essay and Poster Contests | Beer tents | Open mic | Photo Contest | Silent Auction and Fundraising Games | Bingo | Guessing Games | Wall of Fame | Fireworks | Vendor/Crafter Area | Historical Displays | Genealogy | Mr. Dimples—Balloon Twister | Face Painting | Kids Zone with Crafts, Contests and Games| Photo Booth | Cards and Tic-Tac-Toe | Fishing Derby (Father's Day Weekend) | Horse Drawn Wagon Shuttle | Canoe, Paddle Board and Kayak Races | Cardboard Boat Contest and Race | Free Draws | Time Capsule | Past Councillor's Meet and Greet | Horse Shoes | Carnival Games and just plain visiting.
Outside and Inside Events Multiple locations
List will be updated as plans fall in place!
---
If you are able to assist in any way, please contact the municipal office. We will need people to help on a number of different committees from set up to entertainment to food.
Financial or In-Kind donations toward this project gratefully accepted, tax receipts for amounts over $10 are available.
Updates will be posted here and on our Facebook page at https://www.facebook.com/events/222658508073051/.
SAVE THE DATE | SPREAD THE WORD | ​STEP UP TO VOLUNTEER
HOPE TO SEE YOU THERE!!!